About Emerson Creek Pottery
Emerson Creek Pottery, located in Bedford, VA, boasts beautiful ceramic pottery in clean organic designs.
American Pottery Handmade in Virginia
Created in the Blue Ridge Mountains of Virginia in the American tradition of quality ceramics. We currently feature many different lines of ceramic pottery. Including our beloved signature line, Field of Iris, a classic since 1977.
All of our work is microwave and dishwasher safe, lead-safe cadmium-safe, and ovenproof.
Emerson Creek Pottery's ceramic pieces have been featured at Mt. Vernon, Monticello and the Smithsonian Institute. Influenced by the energy of Early American cobalt decoration, owner Jim Leavitt founded Emerson Creek Pottery in 1977.
With its original log walls, original fireplace, and three double-barrel chimneys, the cabin which houses the Emerson Creek Pottery Outlet Store offers considerable interest to those wishing to steep themselves in the rich history of the region.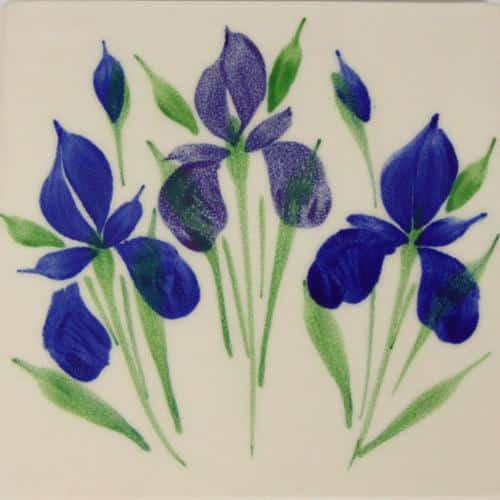 Experience Our Quality Handmade Ceramic Pottery
Our guests enjoy the opportunity to connect with the past by experiencing the special quality of our handmade ceramic pottery, which continues a true American tradition handed down to us from Colonial times.
Our rural setting and the nearby Blue Ridge Mountains have inspired many designs. From humble beginnings in clay and a single potter's wheel to today, where the pottery is home to a hardworking team that creates beautiful and functional work using sustainable methods and traditional techniques. All clay, glazes and design colors are made on-site with formulas developed and tested over many decades.
Inspired by early American Cobalt decoration on stoneware pottery, early work featured simple designs (Lone Pine Tree, Single Iris) hand-painted with a Sumi-e brush over porous glaze and stoneware. Sumi-e brush painting is a 2000-year-old art form developed in Japan. Sumi-e means 'black ink painting'. Early designs were one hue as Sumi-e implies. Over time, many colors and brush sizes have been added.
Emerson Creek Pottery's handmade pottery is special. Like snowflakes, no two pieces are completely identical. Our pottery is made by people who handle and shape each piece in many stages prior to the finished pottery arriving in your home. Every step, from mixing clay, forming, finishing, glazing, painting, firing, packing, and shipping, is completed by people. Each piece of our pottery goes through at least eight pairs of hands before finding its way into your hands.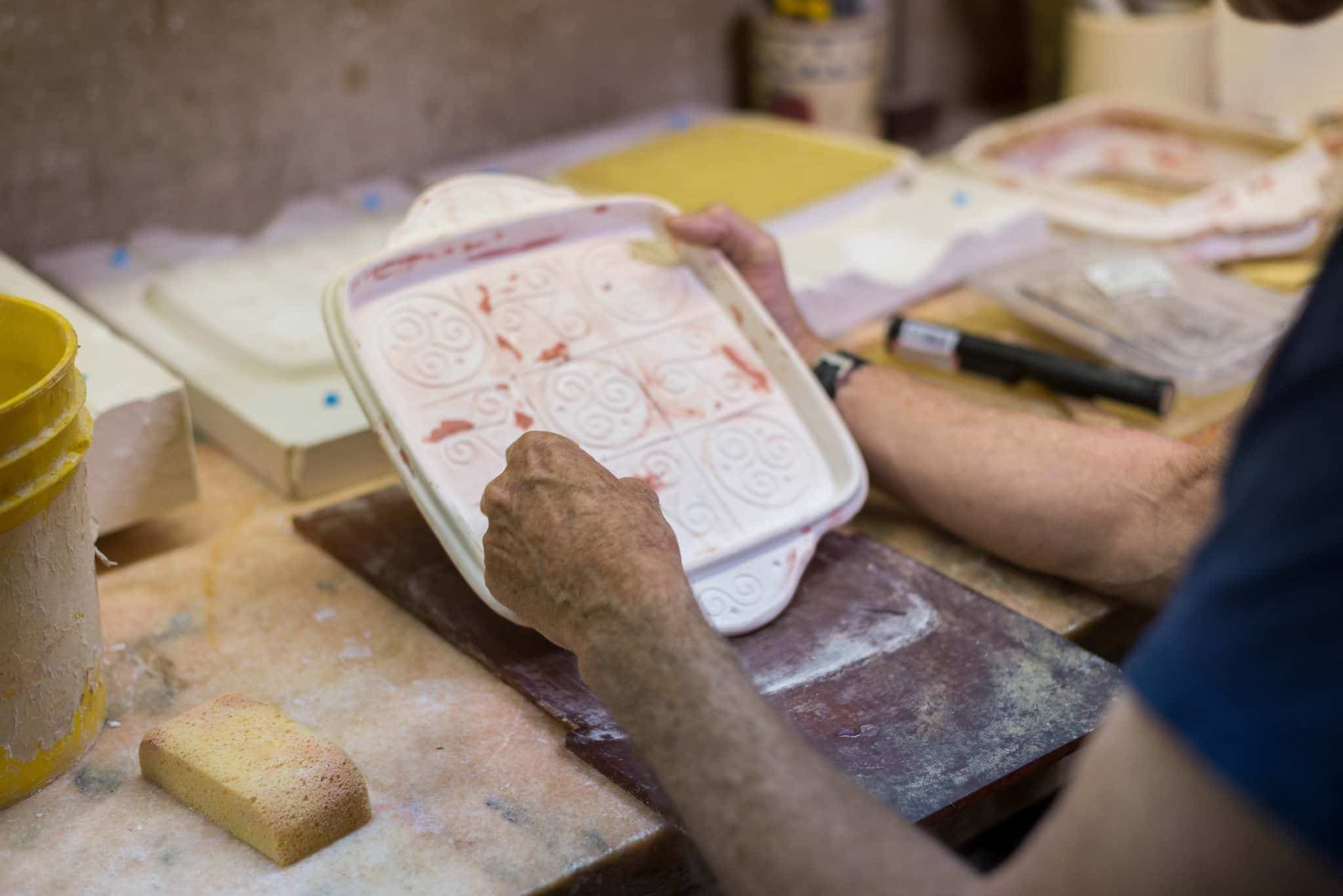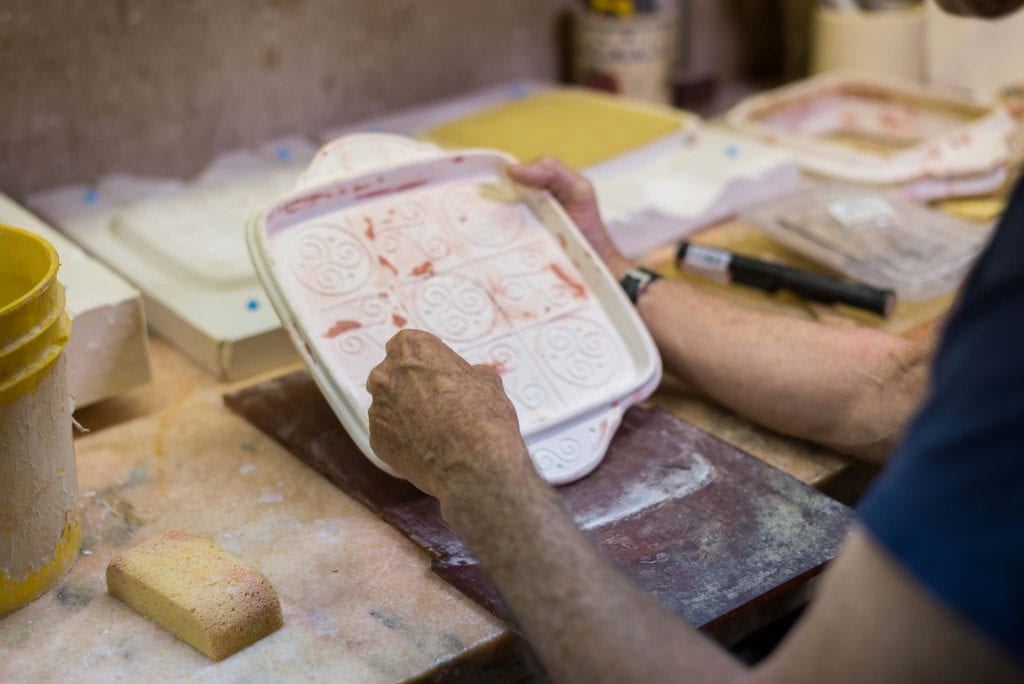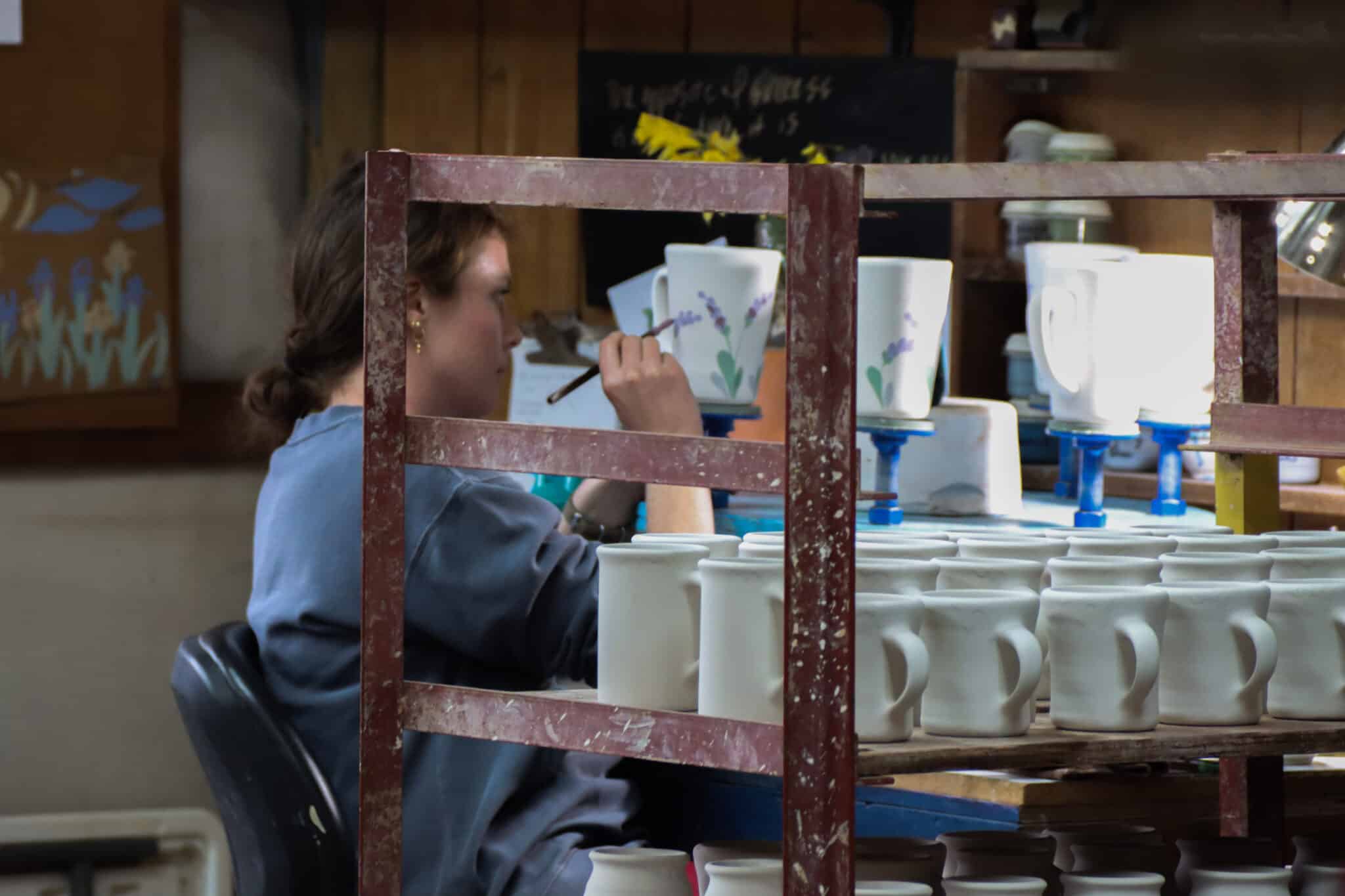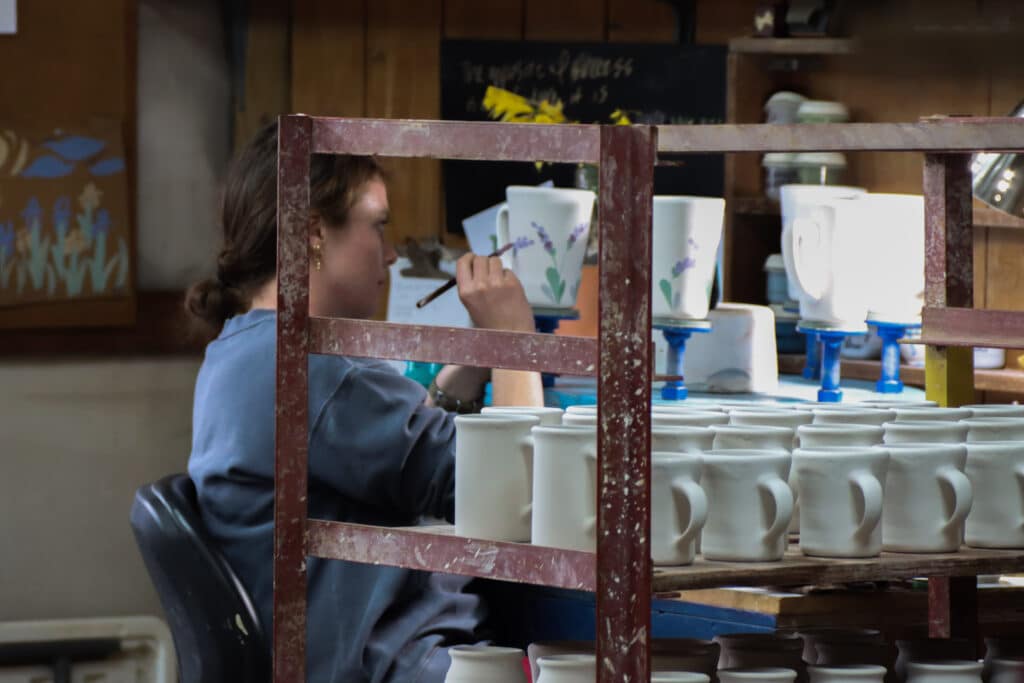 Designs are handpainted by artists who develop brush techniques to capture complex natural objects: irises, dragonflies, mountains, fields, and wildflowers.  All of our pottery is microwave, oven and dishwasher safe, and is lead and cadmium safe to keep your family protected. See results of chemical testing here.
If you're ever in Bedford, Virginia, we would love for you to stop by our Outlet Store location at 1068 Pottery Lane! While you're in the area, don't miss out on these incredible places:
For a complete list of what to do in Bedford, Virginia, visit the Visit Bedford website.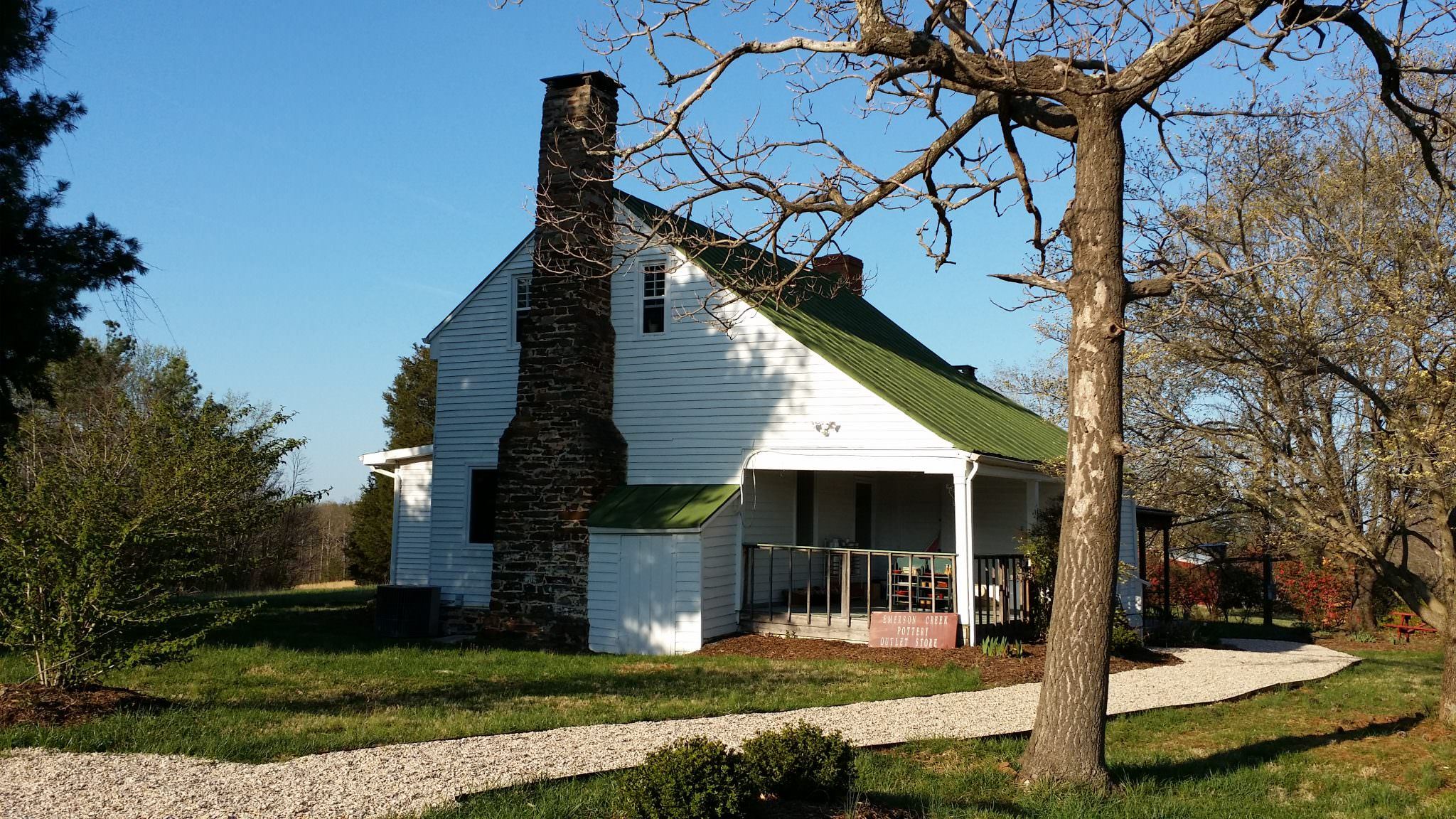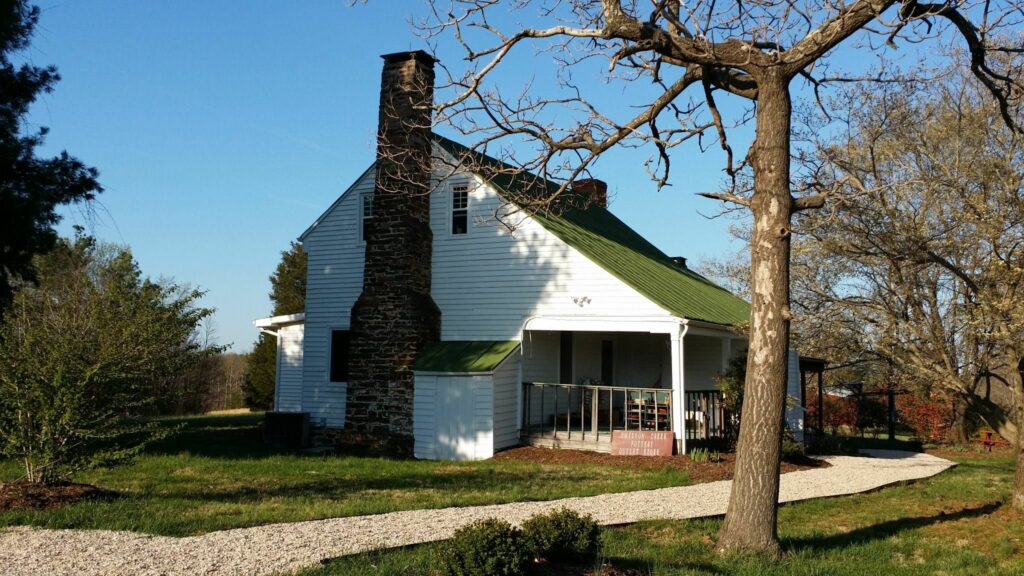 We're makers at heart and create products that are both beautiful and functional.
With great love for the outdoors, we incorporate nature into our designs and protect the Earth through sustainable practices.