BLUE CRAB DIP COOLER & LINDA'S GARDEN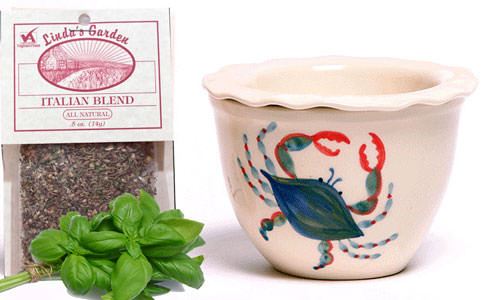 We love partnering with other Handmade Artisans to offer Made in America Gift Ideas.  Linda's Garden offers all natural herbal seasonings and vinegars. They are our 'neighbors' located in Virginia Beach, VA.  We sell Linda's Garden on our website paired with our Dip Cooler (008) Dip Cooler and Linda's Garden.
Linda offers a fantastic Crab Dip Recipe which pairs perfectly with our Blue Crab Dip Cooler.  Our Dip Cooler is a two piece set.  The lower bowl with handpainted designs &  glossy glazes holds ice to keep the upper dish cool while it frames your dips with a frilly rim.
Pair our Blue Crab Design with Linda's Garden Italian Blend Dip Mix to Showcase and Support American-Made Beauty and Fresh Food!
Linda's Cheese Crab Dip
1-  8 oz package cream cheese (softened)
1 – 8 oz container of sour cream
1 tsp Linda's Garden Italian Blend
1 TBSP sherry
2 TBSP lemon juice
1 lb. crabmeat
Mix all ingredients until well blended.  Can be served hot or cold on crackers.
To find other recipes by Linda's Garden:  Linda's Garden