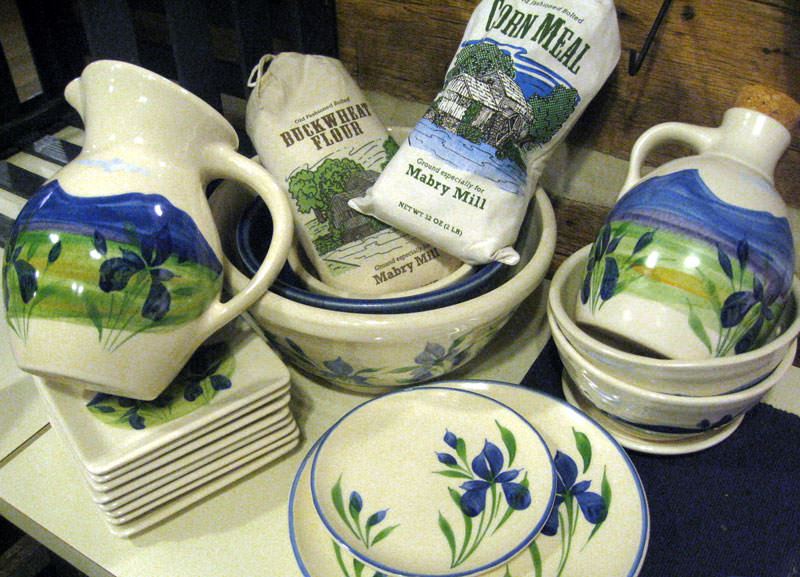 A visit to historic Mabry Mill on the Blue Ridge Parkway is a scenic two hour drive from Emerson Creek Pottery's factory and outlet store.  We visited Mabry Mill recently and enjoyed the Grist Mill Sampler at the Mabry Mill Restaurant http://www.mabrymillrestaurant.com/index.shtml , followed by a hike on Rocky Knob.
The Grist Mill Sampler features buckwheat, cornmeal and sweet potato pancakes.  We purchased some buckwheat and corn meal at their gift store and toured the historic mill and grounds for a glimpse into 19th century life in the Blue Ridge Mountains.  Our Outlet Store is situated in a cabin built in 1825 – the same century the Mabry Family operated their grist mill, sawmill, and blacksmith shop.  It is reported the original owners of our cabin once had a horse-driven mill to grind corn and flour.  Take a drive along the historic Blue Ridge Parkway (celebrating 78 years in 2013) and soak in the mountains' beauty and many destinations along America's Favorite Drive.  
MABRY MILL RESTAURANT CORN MEAL GRIDDLE CAKES
1 cup Mabry Mill Corn Meal
1 cup All Purpose Flour
1 tsp Salt
4 tsp Baking Powder
1/4 cup melted shortening
1 egg, well beaten
2  1/2 cups milk
Mix dry ingredients; combine egg and milk; stir wet ingredients into dry ingredients.  Stir in shortening and add more milk, if necessary, to make a thin batter.  Fry on a hot greased griddle.  Yield:  about 18 cakes.
Mix up your ingredients in one of our mixing bowls, handmade 40 minutes from the Blue Ridge Parkway's Peaks of Otter.  We have captured the beauty of the Blue Ridge Mountains in our Summer Peaks, Field of Iris, and American Blue designs (shown).