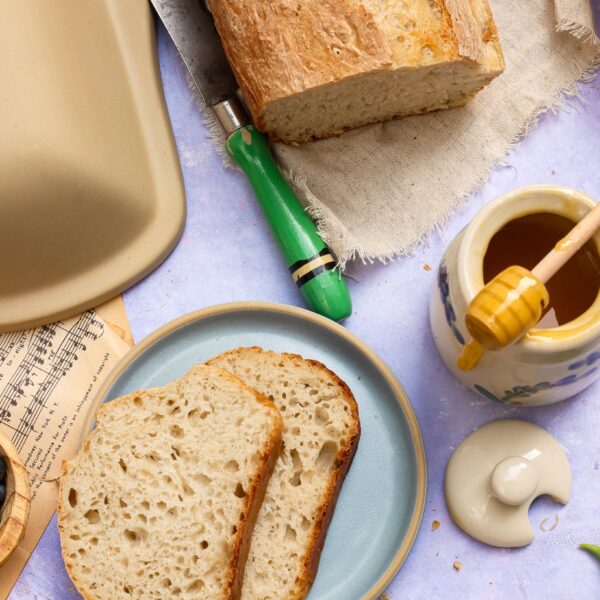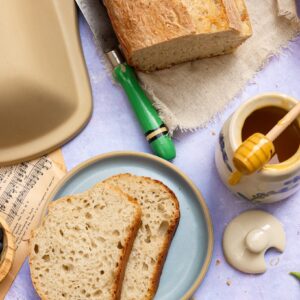 Easy No Knead Bread
If you've never baked bread before and want to try it, this is the recipe for you! With just five ingredients and little prep work, this recipe is as easy as it is delicious. Use it to make a sandwich or enjoy it with some butter and your favorite spread.
Prep: About 2 hours | Bake: 20-30 minutes | Total: About 2 hours and 30 minutes
Yield: 1 loaf of bread
Ingredients
6 cups all-purpose or bread flour
3 tsp yeast (dry,instant)
2-3 tsp sugar
2-3 tsp salt
3 cups very warm water, (not boiling hot)
This bread recipe was developed specifically for use with our Covered Bread Pan.
Directions
Combine flour, yeast, sugar, and salt in a large bowl. Stir in water until it's well combined.
Cover with plastic wrap or a wet towel and let stand for 1.5 hours or until it doubles in size.
Using two forks fold the dough 10-12 times and shape it into a rough ball (sprinkle with little flour if needed).
Place in a parchment paper-lined Emerson Creek Pottery Covered Bread Pan and place the cover on top. Let stand on the countertop for about 35 minutes.
Preheat oven to 425F.
Transfer the bread to the oven and bake for 20 minutes and then reduce the heat to 350F and bake for another 20-30 minutes (the last 15 minutes without the cover).
Let it cool for at least 15 minutes before slicing.
Aga Bodes is our guest food photographer, food stylist, and recipe developer. Learn more about Aga and see some of her work on her website, AgaBodes.com.