No-Bake Cheesecake With Strawberries
Enjoy the flavors of summer without having to fire up your oven. Our No-Bake Cheesecake With Strawberries is the perfect recipe to use seasonal berries and keep you cool all summer!
Prep: About 10 minutes | Chill: About 4 hours | Total: A little over 4 hours
Yield: 1 cheesecake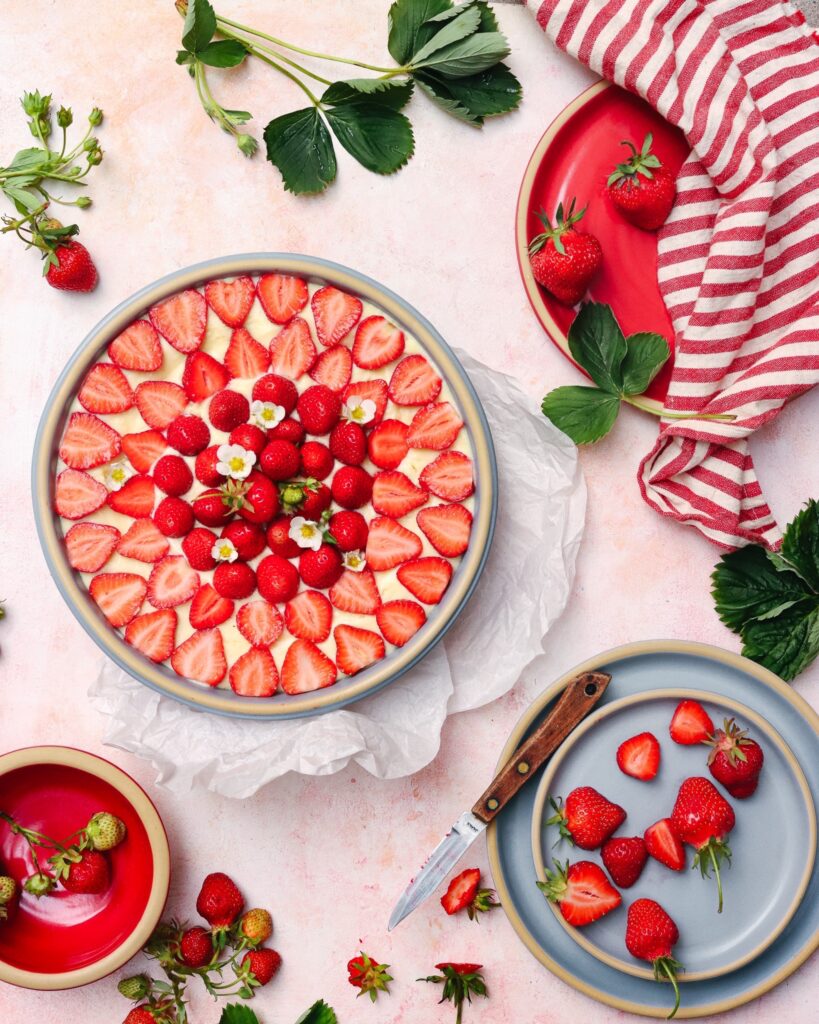 Ingredients
For the crust:
12 graham crackers
1-2 tsp powdered sugar
5-8 Tbsp unsalted butter
For the filling:
1 cup cream cheese, at room temperature
2/3 cup powdered sugar
1 1/4 cups heavy whipping cream, chilled
1 1/2 cup mascarpone cheese, chilled
2 Tbsp fresh lemon/lime juice
For the topping:
About 20 strawberries (halved) and 15 whole (top parts removed); depending on the size.
You will need a Brookline Baker to make this recipe or an equivalent sized dish.
Directions
Lightly butter and line your Brookline Baker with round parchment paper, set aside.
In the bowl of a food processor, coarsely break up graham crackers then pulse into fine crumbs, add sugar and melted butter and pulse again.
Press crumbs into the bottom of the Brookline Baker, transfer to fridge.
In a big mixing bowl beat heavy whipping cream (3-5 minutes on high speed). Reduce speed to medium/low and beat in mascarpone until well combined and smooth, set aside.
In a separate bowl, mix cream cheese with sugar (using electric mixer on medium-high speed).
Using spatula fold cream cheese into whipped mascarpone mixture and lemon juice until well combined.
Transfer cheesecake filling over the chilled crust and refrigerate for at least 4 hours or overnight.
Arrange halved strawberries in rings over the top and whole strawberries in the middle. Enjoy!
Aga Bodes is our guest food photographer, food stylist, and recipe developer. Learn more about Aga and see some of her work on her website, AgaBodes.com.