Guest Post from Lucy Natkiel of Brown Bag Designs. Creator of Brown Bag Shortbread Pans and Cookie Molds.
I'm retired.
I keep telling people that. But the information seems to bounce right off of several shortbread aficionados I know.
Particularly my friend Rox. "I neeeeed a new shortbread recipe. Pleeease?!!! Think of me, think of all of the shortbread addicts out there, think of Robert the Bruce!" So okay, okay, okay…
Because I seem to be on a peanut butter kick at the moment, I have worked out a rich, not too sweet
Shortbread recipe using Peanuts that I find surprisingly subtle and really delicious.
In the summer, I gobble vegetables right out of my garden, cook less, and eat quantities of peanut butter as my nod to protein.
I hope this will satisfy Rox; I'm sure Robert the Bruce would be appalled.
Peanut Shortbread (unorthodox but delicious)
Ingredients
1 stick of softened unsalted butter (4 oz.)
1/3 cup packed light brown sugar (2 oz.)
1 yolk from a standard "medium" or "large" egg
1 cup plus 2 Tablespoons all-purpose flour, scooped from the bag, then leveled (5 oz.)
1/4 cup unsalted roasted peanuts (1 1/4 oz.)
Pinch of salt
½ teaspoon vanilla extract
Instructions
Cream the butter with the brown sugar and the egg yolk, adding the yolk when the sugar is thoroughly mixed. I like to use a stand mixer with the paddle attachment.
Place the flour, peanuts, and salt in the bowl of a food processor. Process until the nuts have been ground to a fine meal.
Work the flour mixture into the butter mixture, stirring on slow speed until the dough clumps together. Add the vanilla extract and mix.
Turn the dough out onto a lightly floured countertop and knead just until it is smooth and homogenous.
Press it into a shortbread pan that has been lightly sprayed with a vegetable oil spray such as Pam, pressing firmly with the heel of your hand, evening it as you go.
Prick the entire surface with a fork.
Bake the shortbread in the center of a 350⁰ oven for 25 – 30 minutes, until the surface is light brown.
Remove the shortbread pan from the oven and set it on a rack to cool for 10 minutes, then turn the pan over onto a wooded or plastic cutting board.

Be sure to cool the shortbread in the pan for at least 10 minutes, but no more than 15.

Holding the pan face down about 1 ½ to 2" above the board, drop it. This will jar the shortbread, and it should fall right out of the pan.

If it doesn't, drop it again in the same manner.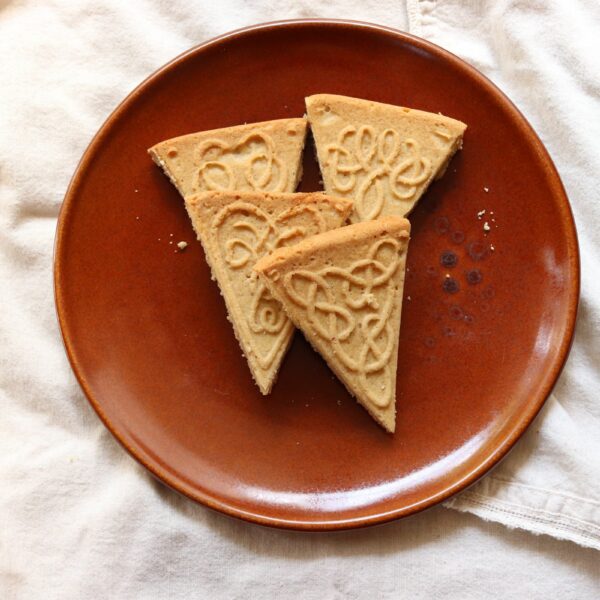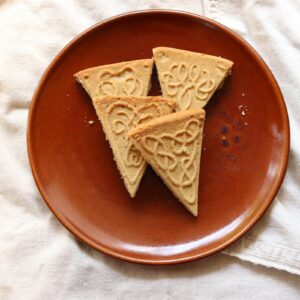 Note: This shortbread has slightly more sugar than do most of my recipes, so it is a little more prone to sticking.
Slice the Peanut Shortbread into serving pieces with a sharp knife while it is still warm. Cool on a rack and serve.
Though I like this shortbread pure and simple, a smear of melted chocolate on the backs of cooled pieces never hurt anything. Peanut butter and chocolate is a classic combination, after all.
Enjoy –
Lucy
We Are Having a Contest!

Leave a comment on this post between July 28th and August 3rd and we will enter you to win a Brown Bag Shortbread Pan and Cookie Stamp of your choice.