How To Use Your Emerson Creek Pottery African Violet Container
You will plant your African violet in the semi-conical, unglazed ceramic planter.
You will be setting the planter inside the decorative ceramic African violet pot once it's planted.
When it's time to water, remove the conical planter and fill the pot halfway full with room temperature water.
Set the conical planter back into the pot.
The house plant will slowly absorb a little water at a time through the non-glazed ceramic.
The soil of African violets should be just slightly moist to the touch at all times…never waterlogged or bone dry.
If you feel your African violet has absorbed enough water, simply empty the decorative bowl.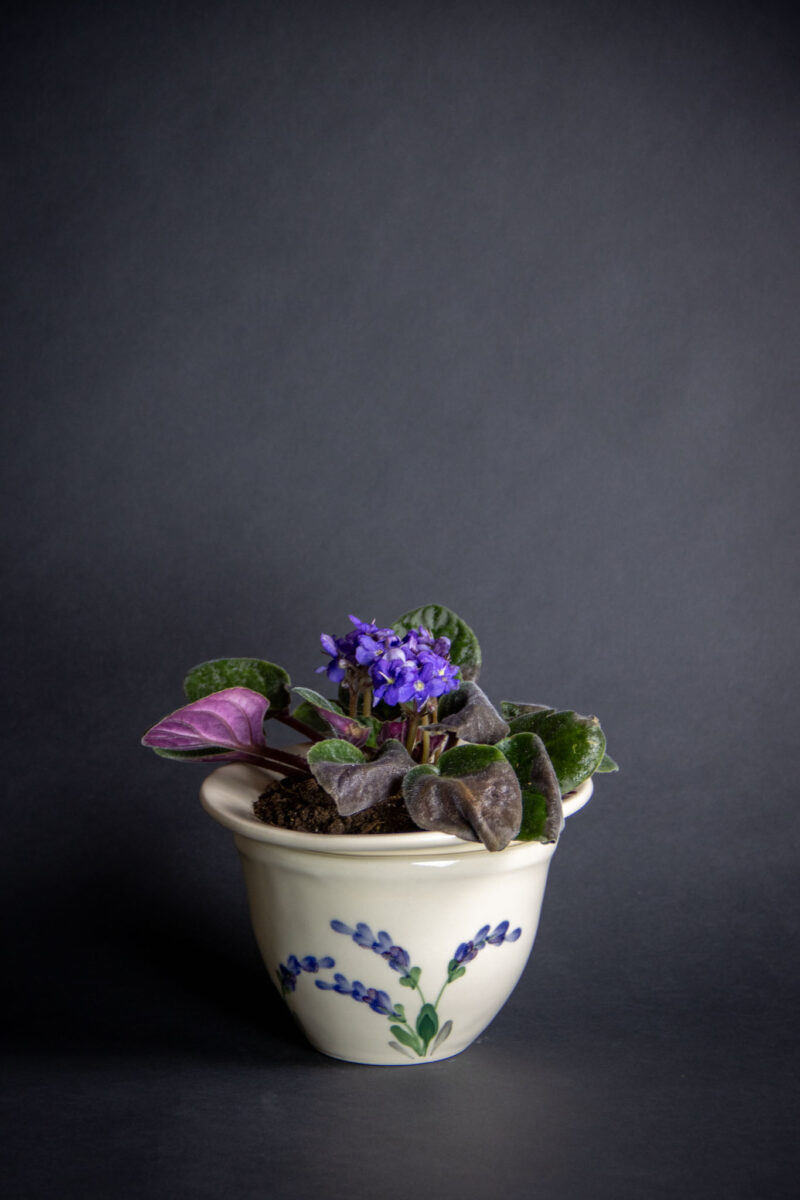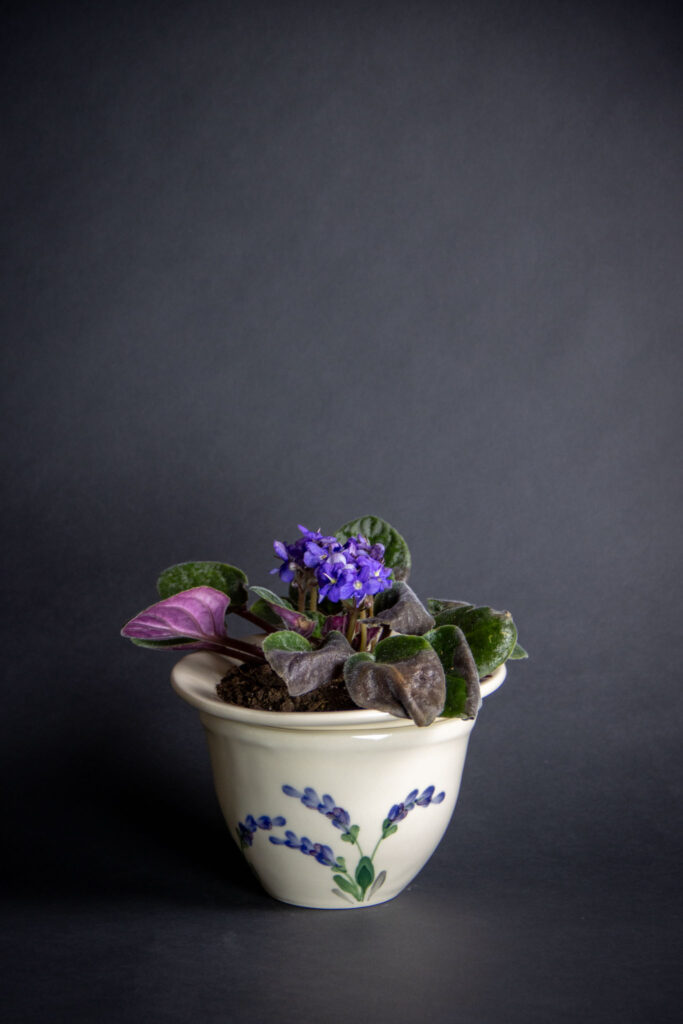 African Violet History
African violets are not actually violets. They do not come from the Viola species of plants. They belong to the Gesneriads group of plants. It is believed that the western world first came in contact with these charming specimens when they were collected from West Africa by Baron Walter Von St. Paul in the 1800s. Baron St. Paul sent his collection home to Germany. The African violets, with their fuzzy emerald leaves and vibrantly hued flowers, were an immediate success, and remain one of the most beloved and popular house plants to this day.
Modern African Violets
Hybridizers have had tremendous fun with this species of plant over the past few centuries. The original common form of the African violet featured dark purple flowers, hence its name. Today, you will find every shade of violet, lavender, various blues, pink, white and bi-color African violets, just waiting to beautify your home as few other house plants can. You will find single, double, semi-double and ruffled flower forms, and leaves may be ruffled, scalloped, variegated or a plain flat green with that signature velvety feel.
African violet growers class these plants into four size groups, based upon the diameter the plant ultimately reaches. There are large African violets, exceeding 16″, 8″ to 16″ standards, 6″ to 8″ semi-miniatures, and less than 6″ miniature African violets. The amazing variety offers endless possibilities for your home decor.
Soil for your African violet
We advise against using peat moss in these handmade ceramic African violet pots. The best gardeners we know have told us that this cheap substance can actually harm your plant instead of helping it. Go to your local nursery and purchase a small bag of soil meant specifically for African violets. It should be made up of pine bark and sand to allow breathing room for the roots of the plant. The design of our African violet pots ensures that you do not drown your plant by watering it from above. Watering from below, by means of our two part African violet container, is the way to go!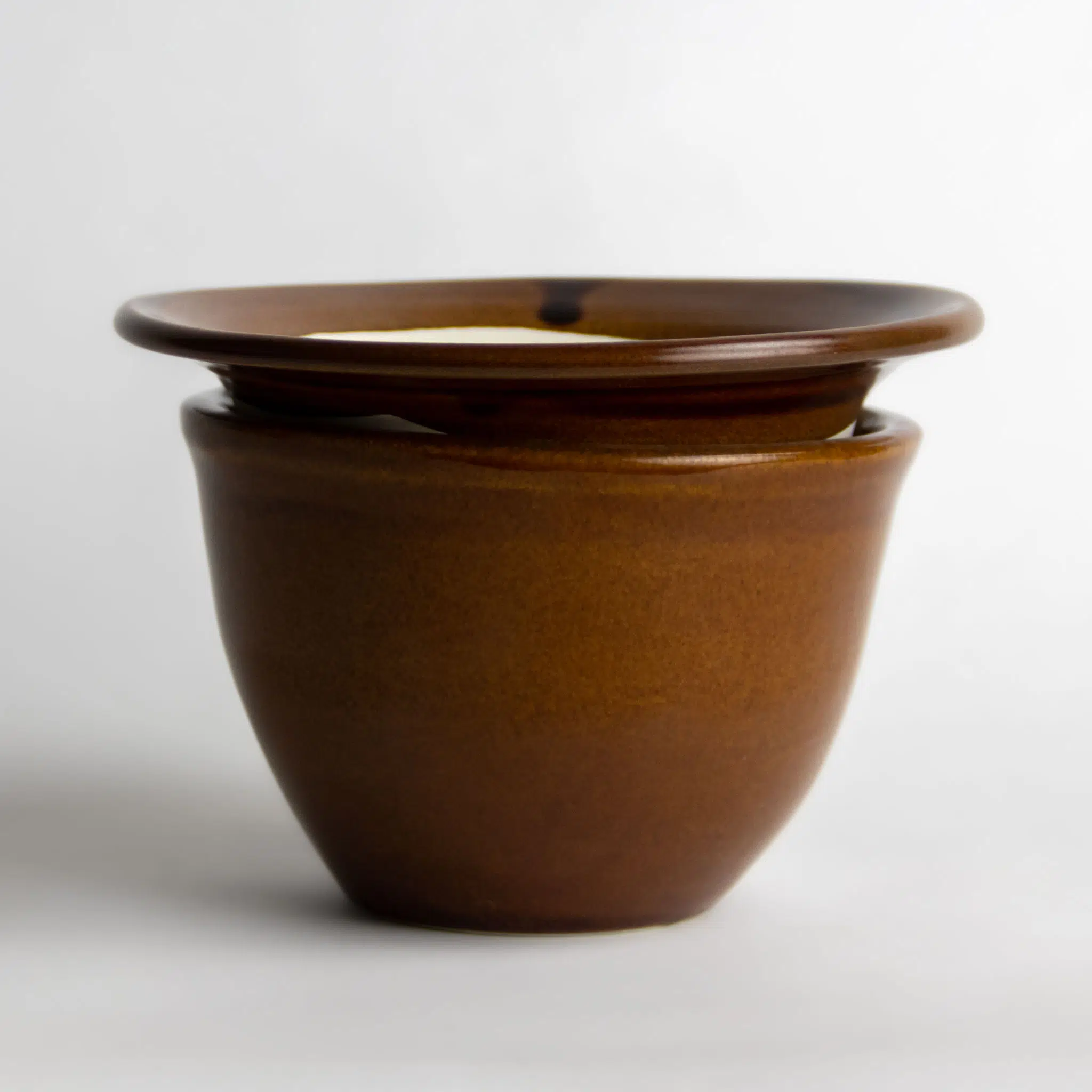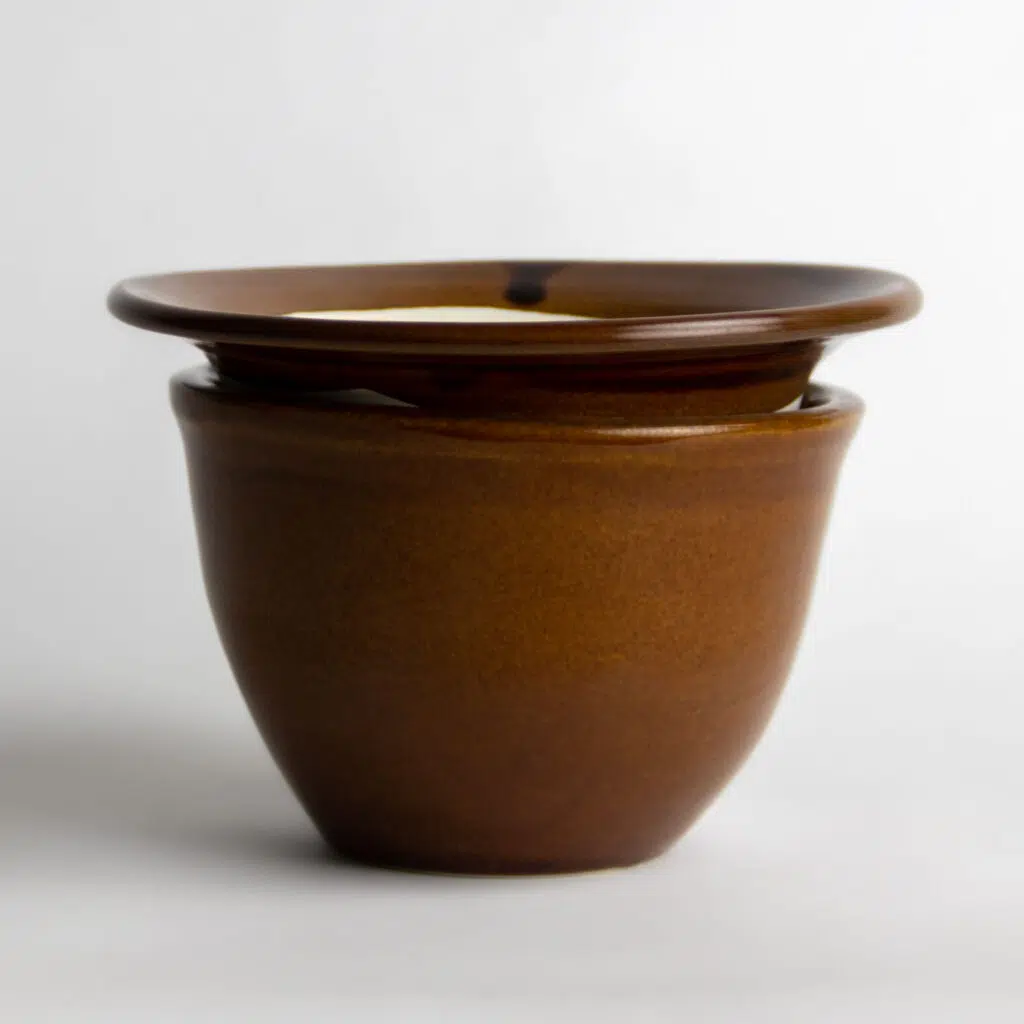 Proper Light for African Violets
Most gardeners agree that a window sill with a northeast exposure is best for the cultivation of this plant. Too much light will produce tiny, rumpled, yellow leaves, and too little light can result in thin, straggly leaves that are stretching to find the light source they need. A healthy African violet should have a rounded, compact, mounding habit and dark green foliage.
If you do not have a window with a northeast exposure, fluorescent lights can do the trick. The lights should be installed so that they hang about a foot above the plants, and with an average of 14 hours of light per day from these artificial lights, your African violets should have the power and energy to bloom and thrive. You do not need to use expensive grow lights for this.
Fertilizing your African violets
We recommend seeking an organic African violet fertilizer. This is especially important if the violets are being displayed in the kitchen or near eating areas, or anywhere that children play. Chemical fertilizers are not meant to be ingested, so it's best to be as safe as you can when growing plants indoors by choosing organic African violet food. Because they are being grown in planters, your plants will require periodic fertilization to re-enrich the soil.
Aphids on African violets
All gardeners run into aphids outside in the garden, but they can occur on house plants, too. Aphids are tiny white and green bugs. You will likely come across numerous pesticides manufactured for poisoning garden insects, but let us earnestly steer you away from spraying dangerous toxic substances in your home. Thousands of people are hospitalized each year due to over the counter pesticide exposure, and many of these victims are small children.
The good news is, you can get rid of unwanted aphids on your African violets completely without nasty poisons. If a plant becomes infested, take it outside and simply brush or blow the aphids off. You can use a small paintbrush or cotton swab to assist you in this delicate procedure. Be sure to check the undersides of the leaves and flowers where the little bugs may be hiding. No doubt, these minute insects are having a lovely time living on your lovely African violet plant, but, if you don't want them there, the above is our solution that is gentle to the unsuspecting aphids, and gentle on your home and the environment.
The cultivation of house plants does require practice and care, but the above tips should get you started, and we know you will enjoy having the guesswork taken out of watering with Emerson Creek Pottery's ceramic African violet pots.