This collectable pattern was created by the artists at Emerson Creek Pottery to evoke memories of the Peaks of Otter. Our limited Summer Peaks pottery series brings the beauty of Virginia home to you.
Our Summer Peaks Ceramic Pottery is handmade and handpainted at Emerson Creek Pottery. All pieces are microwave and dishwasher safe, ovenproof, and lead free.
The two mountains that make up the Peaks of Otter are by most accounts the most famous peaks in Virginia. Visible from the pottery, they were once hailed by Thomas Jefferson as being "of greater height than any in our country, perhaps North America." Although there are higher mountains in the Blue Ridge, none catches the eye like these twin mountains.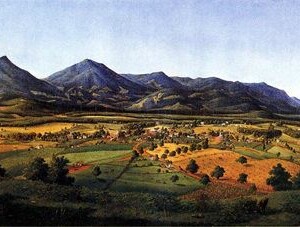 Flat top is the higher of the two at 4,000 feet, but Sharp Top appears higher. This is an optical illusion due to its bold and rocky shape. Sharp Top, with its awe-inspiring panoramas, draws the most visitors and enjoys the greater fame. It was from its pinnacle that the stone, which formed Virginia's contribution to the Washington Monument, was taken.
The Peaks of Otter have become the symbol of Bedford County. They are located on the Blue Ridge Parkway, the most popular of our national parks. Few natural sites in the U.S. can compare to the beauty, serenity and character of the Blue Ridge Mountains.
This pattern is available in a limited number of forms and is the first of a series that will depict the Peaks of Otter in spring, summer, fall and winter.
Links to Peaks of Otter and Bedford, Virginia Information:
Vast resources dealing with Virginia and Bedford history.
Peaks of Otter wines are made from a variety of fruits, including apples, grapes, blackberries, blueberries, peaches and more in the foothills of the Blue Ridge Mountains.