KILNS:  Stoke-on-Trent & Emerson Creek Pottery                                                                              June 2013
Our kiln, in constant use since 1992, was manufactured in Stoke-on-Trent, England, known as "The Potteries". Our good friend George, ceramic engineer and native of England, has advised us on all-things-ceramic for decades, including the purchase of our kiln.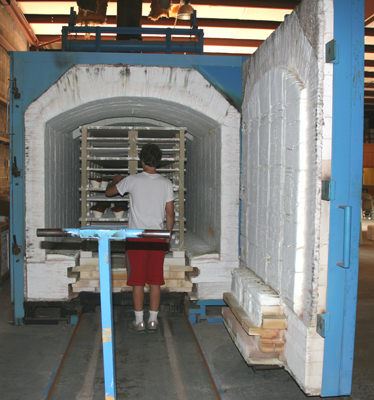 Stoke-on-Trent was once the world capital of ceramics production, with over 2,000 kilns firing millions of forms in the late 1800s. Do the names Wedgwood, Spode, Royal Doulton, and Moorcroft ring a bell? These potteries utilized the abundant clay, salt, canals and coal resources within the region to create an epicenter of pottery production. For a glimpse into a child's life working in the 1800s potteries of Stoke-on-Trent visit http://www.thepotteries.org/focus/011.htm.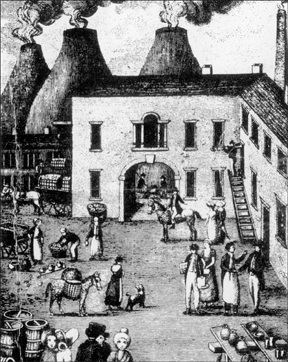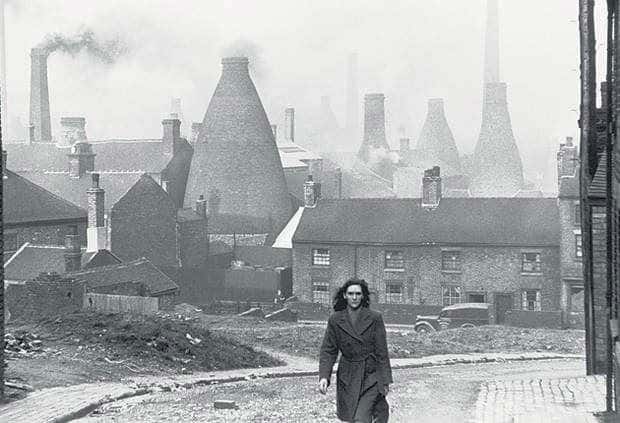 Many of the kilns in Stoke-on-Trent were bottle kilns (see image) fired with coal. The skies were filled with smoke during the industrial revolution. While our kiln  lacks the historic bottle kilns' organic beauty, it does its job heating up pots weekly for twenty years. Pottery is loaded onto 'cars' which roll into the kiln on rails .  When the kiln is fired up it sounds like a rocket preparing for launch – reverberating throughout the warehouse. The temperature reaches over 2,000 degrees Fahrenheit!!  Opening the kiln produces a heat wave (nice in winter, not so nice in summer) as the pottery cools.  Once the kiln has cooled, the pottery cars are rolled back out, revealing stunning glazes and designs. Ask any potter – the opening of a kiln has its surprises (good and bad). We then sort the pottery into first quality and second quality.  Second quality (minor faults) pottery is taken next door to our Outlet Store and first quality is placed in the warehouse, waiting for invitations to visit places near and far.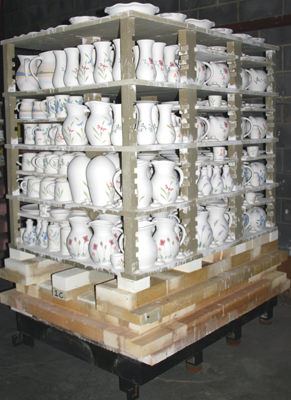 We are pleased to have a piece of Stoke-on-Trent history right here in Bedford County, Virginia as we continue the handmade pottery tradition.