Do it yourself! It's easier to buy it, but when you make it yourself it's usually less expensive, and better!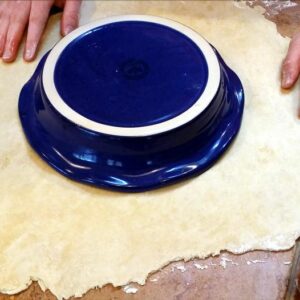 Let's make a pie!
Here's the recipe for the crust
• 2 cups All-purpose Flour
• 2/3 cups Shortening, Preferably Butter-flavored
• 1/2 cups Cold Milk
In a large bowl, pour in flour and shortening; with your hands or a pastry cutter, work quickly to blend the mixture together until it resembles coarse cornmeal. Make a well in the center of the mixture and pour in the milk, mixing the contents together with a fork until the mixture follows the fork around the bowl.
Flour your work surface well, and place your dough on it. Knead the dough about five times and divide the dough in half. Flatten one half into a disc, taking care to flour your dough and rolling pin very well. Roll the dough into your desired thickness, until it is about 1/4″-1/8″ thick. Place into a pie plate and use as desired. Makes two, 9-inch pie crusts.
Note: If using for a unbaked pie filling, simply preheat your oven to 450 degrees. Poke holes generously on the crust with a fork, and bake uncovered for 10-12 minutes.
Let's fill it with something yummy!
How about a Southwestern Quiche?
•½ pounds Sausage
•2 whole Eggs
•¼ cups Ranch Dressing
•¼ cups Sour Cream
•⅓ cups Milk
•1-½ cup Cheddar Cheese, Grated
•1 can (10 Oz. Can) Diced Tomatoes And Green Chiles (Ro-Tel), Drained
•1 whole Unbaked 9-inch Deep Dish Pie Shell
Preheat oven to 350F.
In a large skillet, cook sausage until well browned, stirring frequently. Drain off grease and set aside. Whisk together eggs, ranch dressing, sour cream and milk. Add sausage, cheese and Rotel. Stir to combine. Pour egg mixture into prepared pie crust.
Bake 1 hour. Allow quiche to rest for 5-10 minutes before serving.