Fried chicken, green beans & potatoes, biscuits, peas & carrots, and pies on the sideboard are reasons folks love the south and family style dining. A Virginia tradition from way back, family style dinners around a farm table gathers family and friends to share a meal, pass bowls, and delight in favorite recipes. A Virginia family, farmhouse and family style meals were beautifully portrayed in the 1970s television show The Waltons. 
The real Walton's Mountain is Schuyler VA, where Earl H. Hamner Jr. grew up. Schuyler VA is located in the Blue Ridge Mountains ninety minutes northeast of Emerson Creek Pottery's Virginia farmhouse Outlet Store. The Hamner house, built in 1925, is a traditional Virginia two story clapboard with a generous front porch and kitchen with a large farmhouse table where the family gathered for meals.
Earl H. Hamner Jr. (John Boy in the series) wrote of his family's life in rural Virginia in several books, including Spencer's Mountain and The Homecoming. Hamner describes their family dinner table in Spencer's Mountain: "They were seated at a table nine feet long. Clay had built it himself and it was flanked on either side by wooden benches. There were eight children in all." Strong family values and a simper life are qualities many viewers continue to love about The Waltons.
A simpler life can be realized at the family dinner table. Emerson Creek makes many serving bowls, ideal for family style dinners, such as their Serving Bowl, Pasta Bowl and Coupe Bowl. For the dessert side-board they offer Pie Plates. Slow down and simplify by serving family favorites in beautiful Made in Virginia pottery. Find out what the Hamner family knew—family time around a table is  treasured time.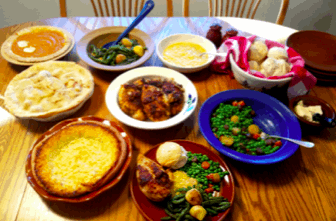 Earl Hamner passed away in 2016, leaving a rich legacy of writing describing his life growing up in rural Virginia. He maintained a blog before his death, where Mr. Hamner wrote "Home. To me in spite of the passing time and the fact that no Hamner still lives, it will always be all that the word implies. It is the place that I come from. It was where during a desperate time in our national history my mother and father raised eight children and gave us the love and security to face an uncertain future".