Sweet Braided Bread With Crumble Topping
Looking for a recipe to use with our Covered Bread Pan? Our friend Aga has developed a beautiful braided bread recipe for you that is soft and sweet with a crunchy crumble topping. This braided bread will pair well with soups and stews, but it's so good, it can stand alone as the main event. Enjoy!
Prep: Up to 3 hours | Bake: 25-35 minutes | Total: Up to 3 hours and 30 minutes
Yield: 1 loaf of braided bread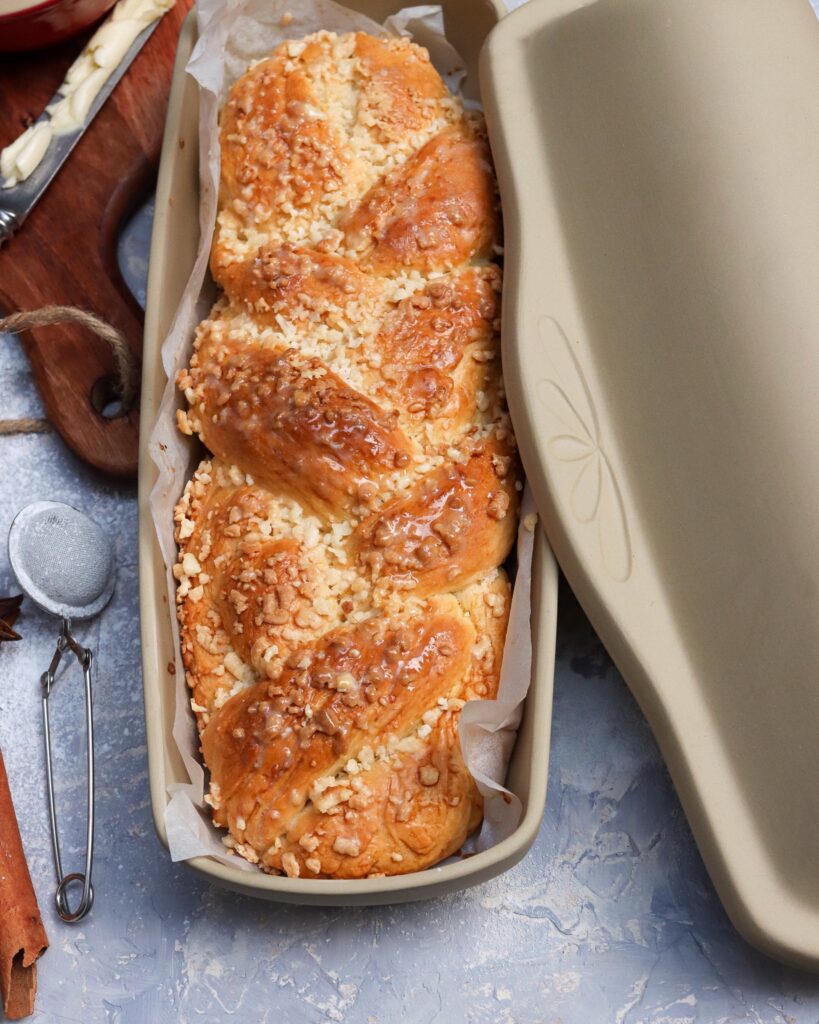 Ingredients
For the Dough:
1/3 cup butter (melted and cooled down)
1 package/7g instant dry yeast
1 1/2 cup milk (warmed up but not hot)
1/4 cup caster sugar
4 1/3 cup flour
1 tsp salt
Egg wash (1 egg mixed with 1 Tbsp water)
For the Crumble:
1/4 cup flour
2 Tbsp melted butter
3 Tbsp powdered sugar
1/2 tsp cinnamon
Mix all ingredients together with a spoon until crumbs start to form
This braided bread recipe was developed specifically for use with our Covered Bread Pan.
Directions
Combine warm milk, yeast, and sugar. Set aside for 15 minutes.
Add in the butter, salt, and gradually add flour (enough to form a soft dough).
Start blending with the mixer and then knead the dough for 5-10 minutes.
Form the dough into a smooth ball. Transfer the dough to the bowl (sprayed with non-stick spray) and then cover the bowl with plastic wrap. Let it rise in a warm place for about 1-2 hours.
Divide the dough into 3 same sized portions (or 6 portions for two smaller loaves).
Roll each portion out into long logs and set them up on the pastry board side by side.
Braid the three pieces of bread together and then pinch the end pieces and tuck them under the roll. Carefully place the loaf on the parchment paper lined bread pan.
Cover with the bread pan cover and let it rise again for 30 minutes.
Brush the tops thoroughly with egg mixture and then sprinkle crumble over the top of the braided loaf. Recover the pan with the bread pan cover.
Preheat the oven to 350 F.
Bake for 25-35 minutes (last 10 minutes without the cover) until the outside is golden brown. Let it cool. Slice and enjoy with butter, jam or honey.
Aga Bodes is our guest food photographer, food stylist, and recipe developer. Learn more about Aga and see some of her work on her website, AgaBodes.com.