Valentine's Day Pie Pops
Sweet and cute, just like your Valentine, our Valentine's Day Pie Pops are the perfect treat for the big day. Make them ahead of time to surprise your crush or make them together for a fun holiday activity.
Prep: 40 minutes | Bake: 30 minutes | Total: 1 hour, 10 minutes
Yield: Varies depending on the size of the glass/cookie cutter you use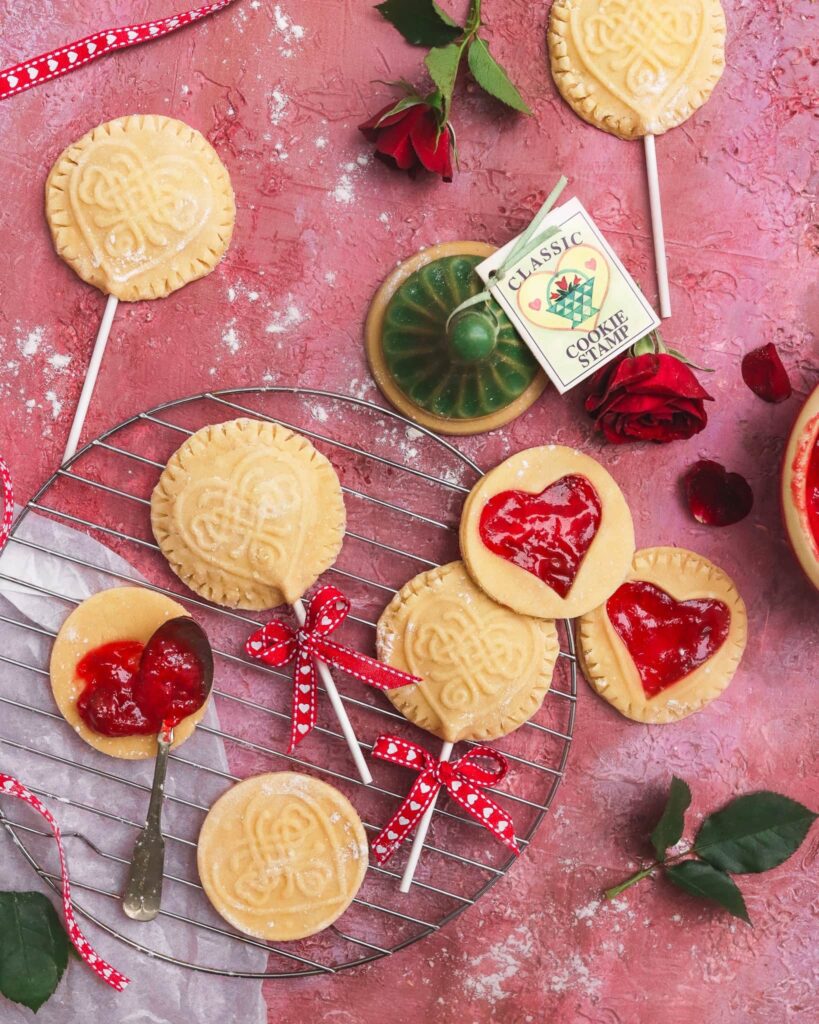 Ingredients
2 cups plain flour (plus extra for dusting)
3 Tbsp icing sugar
Pinch of salt
3/4 cup unsalted butter (cold)
2-4 Tbsp cold water
Cherry/strawberry jam
1 egg (for brushing)
This pie pop recipe was developed specifically for use with our Brown Bag Cookie Stamps. The Celtic Heart stamp was used in the photos for this recipe.
Directions
Preheat the oven to 370F.
Combine all of the ingredients and gather them into a ball, then wrap it in plastic and refrigerate for at least 30 minutes.
Roll pie crust out on a lightly floured work surface. Use a circular cookie cutter or glass to cut circles.
Leave half of the circles plain (that's the bottom of the pies) and place an oven-safe pop stick on each. Press the stick gently into the dough and then spoon about 1/2-1 tsp of jam into the center of each (leaving the edges) and set aside.
Dip the Brown Bag Design cookie stamp in the flour, press and stamp the rest of the circles (that's the top of the pies).
Place the stamped circles on top of the bottom of the pies and press the edges with a fork to crimp the border.
Transfer your pie pops to a baking sheet, brush them with egg, and bake for about 20-30 minutes or until golden brown.
Aga Bodes is our guest food photographer, food stylist, and recipe developer. Learn more about Aga and see some of her work on her website, AgaBodes.com.