Adopting a pet can be a challenging and rewarding journey. Most of the time, adoptable pets have grown into their adult years. Many of them have been neglected or have lived without a stable home environment for quite a while. An adopted animal will need to be shown love in unique ways in order to connect with a new owner.
If you are going to be a first time pet owner who has chosen pet adoption, then it's extremely important to know the ins and outs before making a decision. It isn't as simple as choosing your favorite pet from a shelter and taking them home. But as in any relationship, the time you devote will make the outcome worthwhile. Here are a few ideas on how first time pet owners can successfully choose pet adoption:
Things to Consider Before Adoption
Any pet is adoptable with the right nurturing and training skills. Depending on your level of commitment to helping them change unhealthy behaviors, the breed is entirely up to you. However, you may want to ask the foster family or the adoption agency a few key questions before you make a final decision:
How does this pet behave around children?
Is this pet house trained?
How does this pet handle behave around other animals?
Is this pet spayed or neutered?
Is this pet hypo-allergenic?
The answers to these questions will help you establish if the pet fits your lifestyle. The more questions you ask before adoption, the more you will understand your new pet's needs.
Training Methods and Transitions
A pet who comes from a shelter or foster home will need time to adjust to your routines and expectations. You will need to establish a relationship with the pet so that they feel safe and sound while learning that you are in charge. Training classes are a good starting point. Trainers will introduce you to techniques and habits that will help you properly communicate to the animal. Once you learn the basics, try a few of your own training methods at home so your pet understands your specific rules.
Establishing a routine will be helpful for your pet as well. Since they have come from a temporary facility where they are used to change, they won't be familiar with your daily schedule. There are a few ways you can simultaneously incorporate a routine as well as bonding time. A few options include feeding your pet at the same time daily, taking them outside or playing with them at consistent intervals through the day, or, if it's a dog, taking them on a walk every day. If you've adopted a dog, for example, a walk should be an important element of their day. While you teach them how to walk on a leash, they will become more comfortable with the surrounding neighbors and other pets.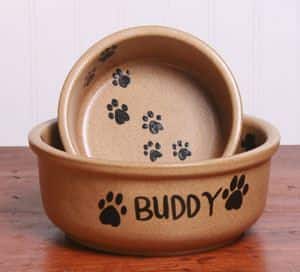 Other than behavioral transitions, your pet will need to physically adjust to their new environment. Take them to a veterinarian to have a full check-up. Make sure you provide the vet with the most recent vaccination record, and ask which pet food is best for the breed. If you have to replace their former pet food brand with a new one, try mixing the two together for a few days so that their body has time to adjust. If you switch brands too quickly, it could cause an upset stomach.
Prior to bringing home your new four-legged friend, be sure you have all of the necessary items that go along with having a pet. Make sure you get a sturdy crate (if you're going to crate train), a soft bed, a strong leash for a dog, food and water bowls, and any special toys. Having these on-hand before your new pet arrives will make their transition that much easier.
When choosing a pet bowl, you want something that is safe and made to last. Emerson Creek Pottery makes a great pet bowl that is lead-free and hand-crafted in America. They'll even add personalization for your four-legged friend.
Providing a permanent home for a pet is a gratifying experience for both you and your new furry friend. As you begin the process of choosing the best pet to adopt into your family, try volunteering some of your time at a local animal shelter, or consider fostering a pet before adopting one. Every minute of the process will be worth the addition of your new animal friend.