The African violet has been a staple indoor plant for decades in American households. It is highly regarded as an easy-going plant, with minimal maintenance and several blooms per year. If you're getting started with cultivating your first indoor plant, then an African violet is a great choice. Here's how you can grow and take care of an African violet flower, as well as why you need a lead-safe flower pot.

History of African Violets
Though a simple house plant, this flower has a history as rich as its violet petals. The African violet originated in Tanzania and Kenya. These east African locations have a humid climate, the perfect conditions needed for the flower to reach its maximum bloom.
In 1892, a German colonist, Baron Walter Von Saint Paul Illaire, discovered the plant while he was in charge of the Tanga province. He sent the seeds to his father back in Germany. From there, the plant blossomed in popularity all around Europe. The plant was later given the genus name "Saintpaulia ionantha" in honor of its founder. Since then, the African violet genus has contributed, at one time, to 60 species of flowers.  
After an African violet fad in Europe, the popular plant finally made its debut in the United States in 1894. Through cross-breeding efforts, horiculturers have developed a variety of colors. Today in flower nurseries around the nation, you will find the African violet in vibrant tones such as red, deep blue, lavender, pink, white or bi-colors. This way you can have an easy-to-garden flower in a stunning shade that matches the colors of your home.
Luckily, there is another option. Stick with

lead-safe flower pots

that will keep your plants and family safe.   
Why Lead-safe?
As you are more than aware of, lead is something we never want to expose ourselves or our loved ones too. And while lead in dishware is a big concern facing manufactured dishes, you wouldn't think that concern would necessarily spread to a simple house plant. However, we believe any product with lead could pose a risk to your family.
During the early 17th century and beyond, lead was one of the key ingredients used to make old world pottery. Lead helped add a smooth, glass-like finish to glazes as well as make colors brighter. Coincidently, lead poisoning was also one of the leading causes of sickness, as many would ingest food or drink water from lead-ridden pottery. Though most lead has been left out of the dishware industry, small traces are still allowed, as per the U.S. Food and Drug Administration (FDA). However, studies show there are still dangers of lead leaching into food through cracks in a plate, heat or acidic-based food.
Here's where lead planters cause a problem for your family. If a lead pot gathers cracks throughout time, and one of your family members comes into contact with it, then your loved one could be at risk of lead exposure—a risk that, in our opinion, is not worth taking. Luckily, there is another option. Stick with lead-safe flower pots that will keep your plants and family safe.    

How to Care for Your African Violet flower
Caring for an indoor plant, such as the African violet, can be a rewarding experience. Not only are you responsibly watering the violet pot, but in return you receive a stunning, colorful flower—as well as some health benefits!
The best way to set your plant up for success is making sure you have the right sized pot. Our African flower pot shape and design is intentional. the small shape gives enough room for your plant to grow comfortably while the unglazed pot with drainage holes allows the flower to soak up all the water it needs. Additionally, we include a pot planter insert that is glazed on the rim for neatness and unglazed in the center so that your plant can avoid being over watered.
So whether this is your first African violet or have a seasoned green thumb (or maybe this is your second attempt at growing one…we don't judge), here's what your plant will need to grow well.
CLIMATE CONDITIONS
First, be sure to find the best seat in the house for your plant to soak in the right amount of sunlight. According to Farmer's Almanac, African Violets needs 14 hours of bright, but indirect light per day, followed by eight hours of rest in darkness. Additionally, use west or south facing windows in the winter and north or east windows in the summer.
As far as for temperature, African violets thrive in 70-80° weather during the daytime and around 65° at night, so they are perfect for naturally humid climates or during the late spring/ summer seasons.
PLANTING
Start by taking a trip to your nearby flower nursery or home improvement store and searching for a pre-started African violet flower. When choosing your African violet, look for bright emerald green leaves and any color variation that you love. Once you bring your new plant home, fill one of our small African violet pots halfway full with all-purpose potting soil. Then, transfer the African violet carefully from the pellet or temporary plastic pot into the new, permanent pot. Lastly, add a little soil to the top and lightly pat it down. Don't press the soil down too much as it can choke out the plants' roots.  
MAINTENANCE
When it comes to watering, the African violet prefers its soil to be slightly moist. Too much water can cause root rot and decay. Also, do not get the leaves wet as they can easily rot as well. To gain maximum growth, your flower will need plant food. Aim for a plant food that is formulated specifically for African violets.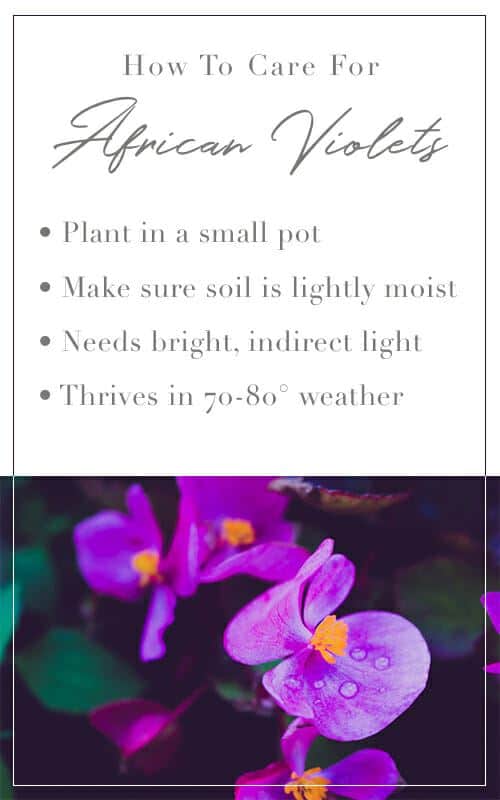 Other Plants To Consider
If African violets aren't your choice of house plant, there are plenty of other indoor plants that will look just as wonderful in your home:

Succulents: These small, decorative plants can range from colorful cacti to small versions of the medicinal aloe vera plants
Jade Plant: This easy-going plant has waxy, round, green leaves that can be easily rehydrated if you accidentally skip a day (or a few days) of watering.
Begonia: A vibrant flower that comes in a variety of colors. Plus, they only require occasional watering!
Basil: a refreshing herb that is easy to grow and will taste great in your favorite recipes. (

Pizza

night, anyone?)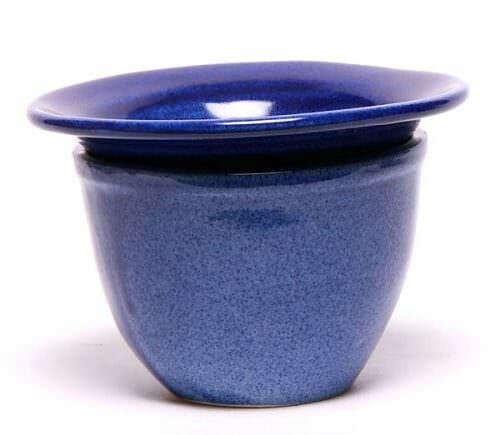 A Flower Pot Perfect For Any Home
Bring the vibrant colors of African violets, or any other plant, into your home. These flowers effortlessly beautify any dining table or window nook. If you want to get involved with this decades long trend, start by purchasing any of our African violet pots for sale. Our pots feature some of our classic designs and rich glazes.